ABOUT BELGIUM
ABOUT BELGIUM
There's just something about Belgium. Maybe it's the friendly & welcoming people who with three official languages still find it easy to converse in English, the 4th unofficial language. Maybe it's the stunning architecture decorating the quaint cobblestone squares. Or perhaps it's the incredible cuisine found in the vast array of restaurants where each meal seems better than the last. Energetic and carefree, the overall mood in Belgium is infectious, summoning in all of us to live as Belgians and enjoy life to the fullest.
Well situated between France and The Netherlands, the kingdom of Belgium encompasses all the best that Europe has to offer. Within the span of one day you can take a romantic cruise , hunt for diamonds, enjoy waffles , frolic in a festival, get lost in a castle, discover antiques at an outdoor market and explore a fine art museum.
Often called the Essence of Europe, Belgium is both multicultural and multilingual. Flanders in the north, a flatland criss-crossed by canals, is proud of its medieval cities, such as Antwerp, Bruges and Ghent. To the south in Wallonia, you will find the rolling hills of the Ardennes, countless castles, and the cities of Bastogne, Namur, and Dinant. Brussels is one of the world's great cosmopolitan capitals, home to both the European Union and NATO, as well as a wealth of international trade and finance companies.
Belgium's history has always been linked to both commercial and cultural exchange, and much of its character is due to its role as the great meeting place of Western Europe. It would be difficult to name a European country who didn't want to stake their claim in Belgium at one time or another. Traces of the Romans, Austrians, Spanish, French and Dutch can still be seen in its architecture and in the lifestyle of its people. You will see superb examples of art and architecture past and present - Romanesque, Gothic, Baroque, and Art Nouveau.
Brussels is at the centre of an ever-expanding European high-speed rail network: Paris is less than 1½ hours away, London, Cologne and Amsterdam just 2. Almost every EU member state can be reached within three hours or less.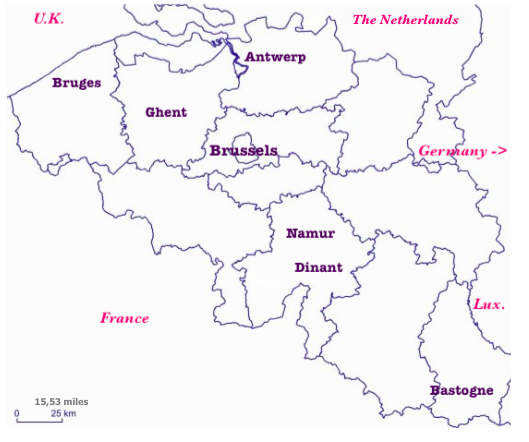 Data e fundit: 15/10/2019